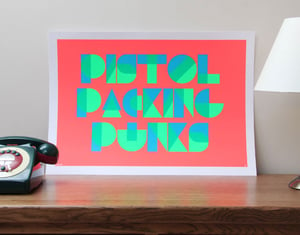 £

30.00
› Limited edition of 50
› Hand numbered and signed
› A2 silk screen poster
› Fluorescent red, green & blue ink
› Printed onto 280gsm Sirio
› Hand pulled by Bob Eight Pop
'Pistol Packing Punks' was a phrase
coined by American news anchorman,
Irv Weinstein. Now retired, Weinstein was one of the longest standing newscasters in US history; delivering the daily news for WKBW-TV in Buffalo, New York, since 1964. His bold delivery and evident enthusiasm struck a cord with viewers
- nobody told it like Irv did.
To see more pictures visit:
www.mad-keen.co.uk
Email me for overseas postage costs:
ryan@mad-keen.co.uk